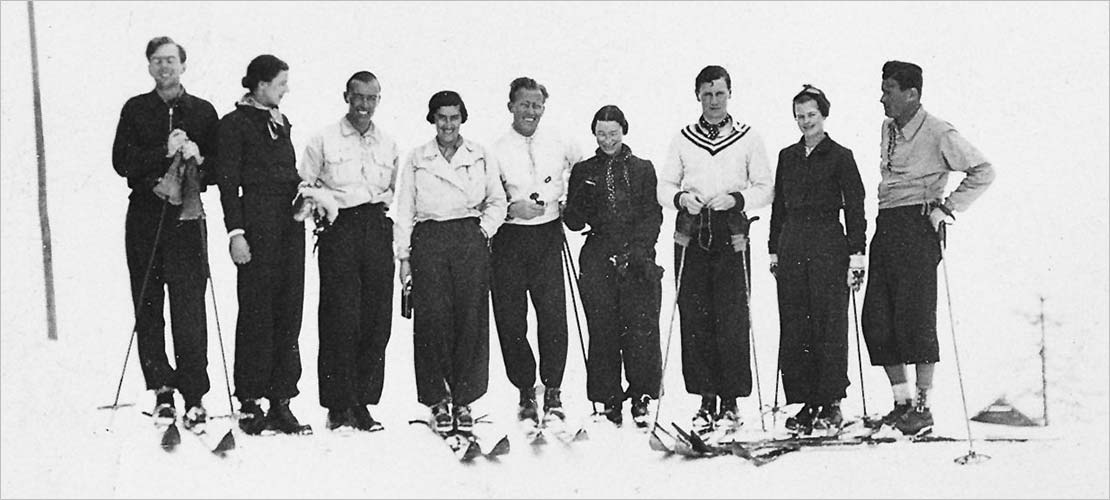 This brief ad appeared in the columns of the London Times in 1932, it was published by one of the great pioneers of the skiing holiday - Erna Low.
Eight decades on, her company, Erna Low Consultants (Erna Low Ski Holidays) is still going strong. It's one of the UK's leading ski holiday tour operators and organised over 14,000 people's holidays last season.
Erna's First Ski Holiday
Erna's first group of clients were to go boldly go where few British skiers had gone before - Austria!
The cost for a fornight in Solden was a mere £15 (that's not a misprint). It included full board, rail travel, ski hire and of course a lesson in speaking German. There were no modern ski clothes back then, this hardy breed of skiers wore leather lace up boots strapped to their wooden skis. There were no lifts either - if you wanted to ski down a mountain you had to walk up the with all your equipment.
Timeline of Erna Low's History
The 1930's and World War 2
Erna's desire to be part of the travel industry was mainly due to homesickness. In her early twenties she had left Vienna to study in London and she could not afford to visit her family or the ski slopes during this time. The ad (above) posted in 1932 helped attract five ethusiastic clients, their payment helped fund Erna's first trip home.
Money wasn't Erna's only motivation - she wanted to show the world how much fun a ski holiday could be. She placed great value on providing a 'personal touch' to all her clients - a practice Erna Low Ski Holidays still employs today. Her first group of clients had a marvellous time!
The business contiued to flourish in the 1930's, putting Erna Low Ski Holidays firmly on the map. It all came to sudden end when Herr Hitler came into Power. During World War II, Erna joined the Army's Education Corps as a lecturer. She travelled the length and breadth of England during this time. It was during her travels she soon discovered another holiday innovation - the house party!
She rented large English country houses and boarding schools to paying guests. The atmosphere was informal and fun. Her aim was to allow guests to meet people and relax.
1940's and Chalet Holidays
After finding success with her English house party rentals, Erna turned her attention back to ski holidays. She decided to bring the principle of house parties to the ski resorts - by promoting the chalet holiday.
The Erna Low Travel Service was launched in 1947 against a backdrop of post war austerity. Her early brochure featured the slogan 'To Sun and Snow with Erna Low'.
1970's and 1980's
Erna sold her business in 1972 - only to buy it back 3 years later. In 1979 she sold the business for a second time - although Erna had no plans for retiring!
In 1980, at the age of 72, she launched Erna Low Consultants Ltd. Her first client was La Plagne, Erna became the resort's official UK representative. It was at this time she was joined by a young graduate Joanna Yellowlees-Bound, now the company's Chief Executive.
Flaine sooned followed in La Plagne's footsteps and a few years later was joined by Les Arcs. In 1997, to complement its three dedicated brochures on La Plagne, Les Arcs and Flaine, the company launched its first general French Alps brochure.
The 1990's and The New Millenium
Erna Low continued to expand and became a market leader for self-drive French Ski Holidays, capitalising on the newly opened Channel Tunnel.
Erna's contribution to the ski holiday industry is enormous. Since placing the first ad in The Times her ideas and expertise have helped shape the industry. The next time you're queing for a ski lift and find yourself sighing, spare a thought for Erna and those early piste-blazers. Imagine climbing up the mountain with heavy wooden skis and heavy wool jackets.
In May 2000 Erna Low was awarded the highest accolade from the British Travel Industry and was entered into the 'Hall of Fame'. This award is only granted to the elite in the industry and was recognition of her entreprenurial skills as doyenne of the ski world.
The End of an Era
Sadly, in February 2002, Erna Low died at her London home.
Her travel career spanned nearly 70 years, she had spent a lifetime pioneering ski holidays and ski locations around the world.
The Erna Low Team is determined to continue the Erna's tradition of innovation and customer service. Miss Low will always be sadly missed but the foundations she laid will help the company remain as a leader in the industry for many decades to come.
Erna Low Today
The success of Erna Low is mainly down to the expertise and customer service of the team. All of the team have spent time working in ski resorts around the world. The company also continues to grow and modernise, providing holidays to destinations all over the world.
Erna Low's ethos of providing high quality, value for money holidays continues.
Erna Low's Biography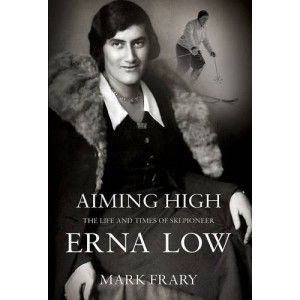 Born in Vienna in 1909, Erna Low was not just the founder of our company, but many agree that she was instrumental in starting the ski holiday industry as a whole. Who would have thought that a simple advert in the Morning Post back in 1932, saying "Austria, fortnight, £15 only, including rail and hotel, arranged by young Viennese Graduette for young people leaving Christmas" would develop into a lucrative business that is still sending people to the Alps over 80 years later
Erna's fascinating life has now been documented in the biography 'Aiming High', by author and journalist Mark Frary. This illustrated account of her life covers the many achievements of this amazing lady from her early years competing at Javelin and handball, her time helping the allied effort during the war and right through to her pioneering work in the travel industry that led to her being awarded the industry's highest accolade.
With a forward written by Erna's godson, the actor Roger Lloyd Pack and featuring interviews with her friends and colleagues, the book will appeal to anyone interested in the history of skiing and travel in Britain, the hundreds of thousands of past and present customers of Erna Low as well as anyone interested in how an independent young Austrian woman from a challenging background became a household name and business success in Britain.
'Aiming High' is available to purchase now from Troubabour Publishing or Amazon.
USEFUL LINKS
Past Erna Low Brochures










Other Resources