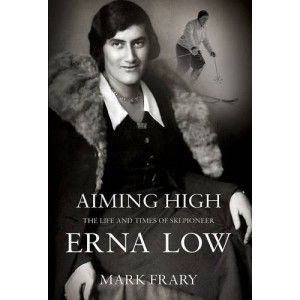 Born in Vienna in 1909, Erna Low was not just the founder of our company, but many agree that she was instrumental in starting the ski holiday industry as a whole. Who would have thought that a simple advert in the Morning Post back in 1932, saying "Austria, fortnight, £15 only, including rail and hotel, arranged by young Viennese Graduette for young people leaving Christmas" would develop into a lucrative business that is still sending people to the Alps over 80 years later
Erna's fascinating life has now been documented in the biography 'Aiming High', by author and journalist Mark Frary. This illustrated account of her life covers the many achievements of this amazing lady from her early years competing at Javelin and handball, her time helping the allied effort during the war and right through to her pioneering work in the travel industry that led to her being awarded the industry's highest accolade.
With a forward written by Erna's godson, the actor Roger Lloyd Pack and featuring interviews with her friends and colleagues, the book will appeal to anyone interested in the history of skiing and travel in Britain, the hundreds of thousands of past and present customers of Erna Low as well as anyone interested in how an independent young Austrian woman from a challenging background became a household name and business success in Britain.
'Aiming High' is available to purchase now from Troubabour Publishing or Amazon.
USEFUL LINKS