Ski Holidays with flights / transfers
Erna Low now offer a one stop shop for all your ski holiday needs with flights and transfers to all our most popular resorts. Save time shopping around and let us find you the best deal.
Ski flights
From all over the UK direct to the Alps & North America.
Erna Low now offer flights from a wide selection of UK airports to destinations across Europe and North America. Our online booking process allows you to book flights with a variety of airlines at the same time as your accommodation, so you can...
Fly from...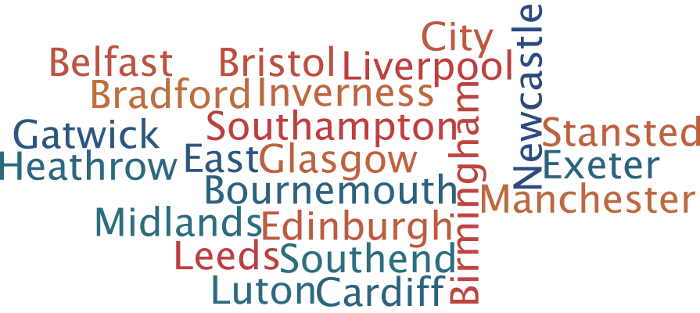 Why book flights with Erna Low?
Save time - No need to spend time shopping around, we'll find you the best deal.
Book everything in one go - No more worrying whether your flights will still be available once you've booked your accommodation.
Enjoy total flexibility - Fly from where you want, at the times that suit you.
Ski resort transfers
Whether you travel by plane or train on your next ski holiday the chances are you will need some kind of vehicle to get you up the mountain to resort. Sometimes this can be a spectacular journey, like the route from Vancouver to Whistler (see below), but not many would claim to enjoy the industrial estate of Albertville that is so familiar to regular skiers in France's Tarentaise Valley.
What you need is a safe, reliable and cost effective way of getting to resort and we at Erna Low have a range of options to suit your needs and budget. We only work with tried and tested transfer providers so you can book with confidence and be sure of a smooth and pain-free journey.
We know the best transfer companies in the Alps as we've used most of them, and we get the best prices. There are plenty of options from a coach, private taxi or minibus, or even your own helicopter, we can arrange the best transfer for you.
Why book a ski resort transfer?
Save Money - Resort transfers can often be cheaper than renting a car, especially when you factor in additional costs such as fuel, tolls, parking, snow chains and sat nav.
Less Hassle - Sit back and enjoy the scenery without worrying about driving in winter conditions, getting lost, or familiarising yourself with local traffic regulations.
More Flexibility - Whether you need an inexpensive shared transfer, or would prefer the comfort and convenience of your own private transfer, we have a range of options to most major European and North American ski resorts.
Total flexibility
Whether you want to book your flights or rail travel through Erna Low, or would prefer to make your own travel arrangements, we can still take care of your ground transportation requirements. Simply select the 'Add resort transfers' option when booking your ski holiday online, or give us a call on 020 3805 8468 and we will be happy to discuss the best option for you.
Example prices
See below for an example of some of the great rates we can offer on resort transfers. These are just a selection of the routes available, so please call us on 020 3805 8468 for a tailor-made quotation to suit your particular requirements.
Shared transfers from Geneva to Morzine from £37 p/p return.
Private transfers from Moutiers to Courchevel from £23 p/p return.
Shared transfers from Grenoble to Alpe d'Huez or Les Deux Alpes from £43 p/p return.
Shared Transfers from Geneva to the 3 Valleys, Les Arcs or La Plagne from £76 p/p return.
Start your holiday search now
Once you've decided where to stay, you'll be given the option to search for flights and resort transfers.
Having trouble finding exactly what you're looking for?
Why not let us help you, after all, that's what we do best!